On this page:
---
What is a Notary Public?
A notary public (also called "notary / notaries", "notarial officers", or "public notaries") in New Zealand is a lawyer authorised by the Archbishop of Canterbury in England to officially witness signatures on legal documents, collect sworn statements, administer oaths and certify the authenticity of legal documents usually for use overseas.
Source: NotaryPublic.org.nz
At the time of writing there are just 208 Notary Publics in New Zealand serving a population of 4.7M.
Half are based in either Auckland (82) or Wellington (24). Tauranga has just 6, and Harris Tate have one of them.
---
What a Notary can do for you
A notary's main functions are to:
Administer oaths and affirmations

Take affidavits and statutory declarations

Witness and authenticate the execution of certain classes of documents

Take acknowledgments of deeds and other conveyances, protest notes and bills of exchange

Provide notice of foreign drafts (a transfer of money between countries from one currency to another)

Prepare marine or ship's "protests" (a notarised statement) in cases of damage

Provide "exemplifications" (an authentic copy of an original document) and notarial copies
Any such act is known as a notarisation.
Here in Tauranga, we most commonly help with:
Verifying your identity

Witnessing your signature on documents going overseas

Notarising documents as true and accurate copies of original documents
6 specific examples that we see most often:
NZ Doctors moving to Australia who need their Medical qualifications notarised

NZ teachers moving to the United Arab Emirates who need their University Degrees notarised

Immigrants who are selling real estate in their former home countries

Immigrants who need to appoint an Attorney who resides overseas

Elderly immigrants from the United Kingdom or India who need to prove to a UK pension fund providers or the Indian Government that they are still alive in order to continue payments

Ship captains who are providing sworn statements about events that have occurred at sea such as damage or loss of cargo enroute, or sailors falling overboard (Ships Protest)
---
Need Notarisation? How our process works in 4 steps
Make an appointment to come and see your Notary Public here at the Harris Tate.

What to bring with you:

Photographic identification (your passport and photo drivers licence if possible)

The documents to be notarised. Do not sign the documents

Your notary uses his seal / embossing tool to verify his presence at the time the documents were signed and records this in his ledger which is kept in perpetuity

In some cases documents signed by your notary will need to be sent to the Department of Internal Affairs in Wellington for authentication
---
Frequently Asked Questions
FAQ #1: "What's the difference between a Justice of the Peace and a Notary Public?"
If you need a document certified for use within New Zealand, a Justice of the Peace may be all you need.
But if you are sending those documents overseas, those documents will likely need to be notarised and only a Notary can do that.
---
FAQ #2: "How much does does it cost to notarise a document?"
We charge from as little as $115 to notarise a one page document. Contact us to discuss your requirements on 07 578 0059 or email admin@harristate.co.nz
---
FAQ #3: "Can you help me with an apostille on my NZ documents?"
Yes. Sometimes, your documents need to be notarised and then sent to the Department of Internal Affairs to be authenticated before they are acceptable to an overseas government.
We can organise that for you and work with the Authentication Unit at the Department of Internal Affairs on your behalf.
---
FAQ #4: "Where did the term 'Notary Public' come from?"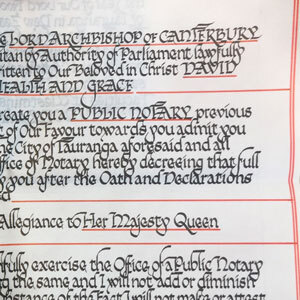 Notary Publics have a long and distinguished history. The profession dates back to ancient rome where these public officials were called "scribae" in Greek/Latin, that is to say, "scribes".
Even today, the certificate of "Notarial Faculty" is signed and authorised by the Archbishop of Canterbury and is hand written in a calligraphic font onto a semi-translucent goat-skin-like parchment paper.
It is written in Old English. Here is the opening sentence: "Rowan Douglas, by divine providence, Lord Archbishop of Canterbury, primate of all England and Metropolitan by Authority of Parliament lawfully empowered for the purposes herein written to our beloved in Christ, Grant Alister Harris, a literate person now residing at the City of Tauranga in New Zealand. We being willing by reason of your merits to confer on you a suitable title of promotion do create you a public notary…"
---
FAQ #5: "Who can become a Notary Public?"
Becoming a notary public in New Zealand involves:
10 years experience as a lawyer

5 years as a law firm partner

Getting your application supported by 20+ local business people

Serving in an area that could benefit from an additional Notary Public

Training

If your application is successful, your "Notarial Faculty" is issued and must be signed by a NZ High Court Judge
---
Why choose us?
We are a member of the Australia and New Zealand College of Notaires

We are registered with the New Zealand Society of Notaries

Over the years, we have always had a Notary Public on the team. We have acted as a notary for thousands of people
---
Ready to get started?
Call (07) 578 0059 to make an appointment with our Notary Public in Tauranga, here at Harris Tate.