You can't predict the future – that is why it pays to be prepared.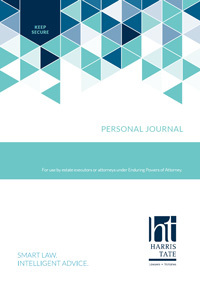 Putting your personal information, from your investment details to where you keep your spare keys, in a Harris Tate Personal Journal is an easy and secure way to ensure everything happens as you envisaged, after you are gone.
Download the Harris Tate Personal Journal (373Kb .pdf)

Open it in Adobe Reader and type into the text fields, then print
Or, print it out first and complete by hand

Fill out the document as thoroughly as possible
Courier the completed journal back to us or drop it off at our offices
For security reasons, don't email or post to us. We'll keep it secure at our office.